Never underestimate the power of a good haircut or manicure.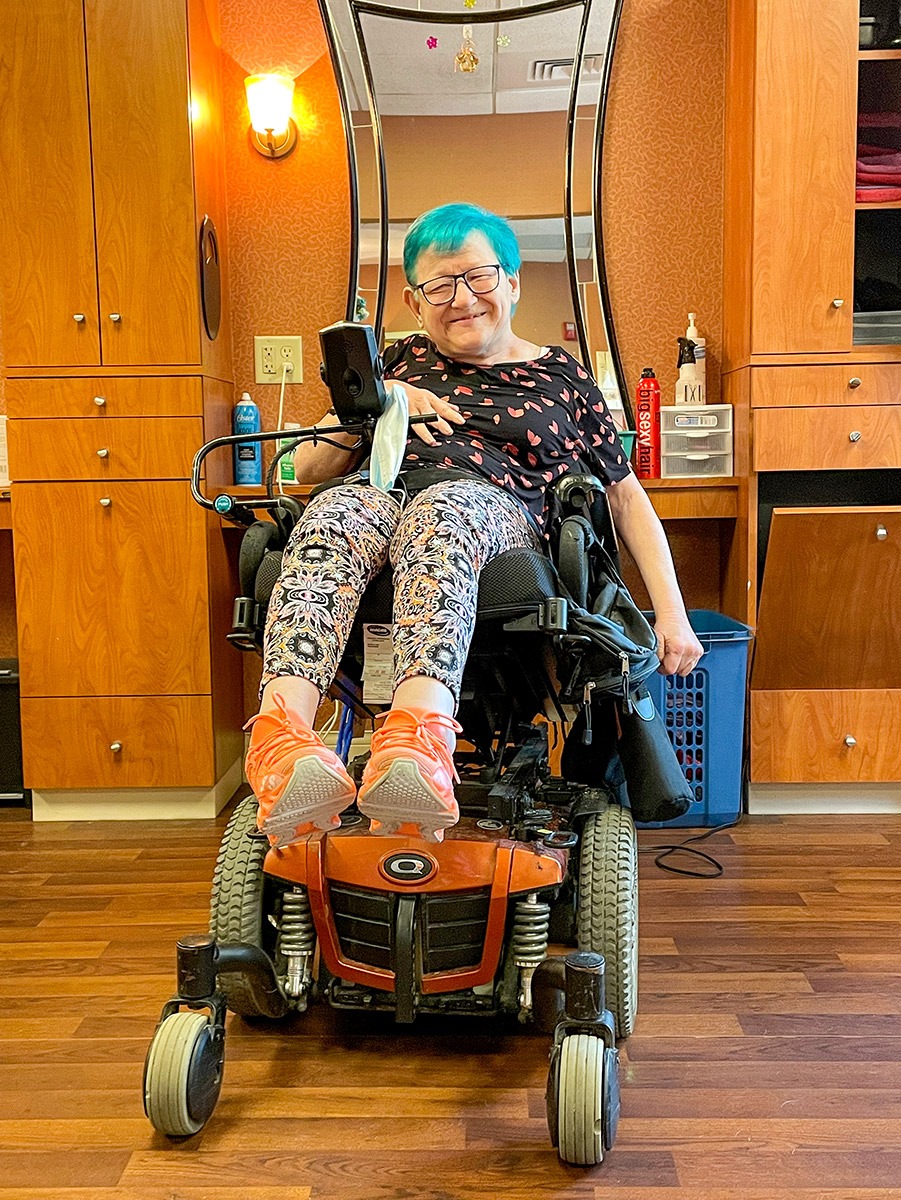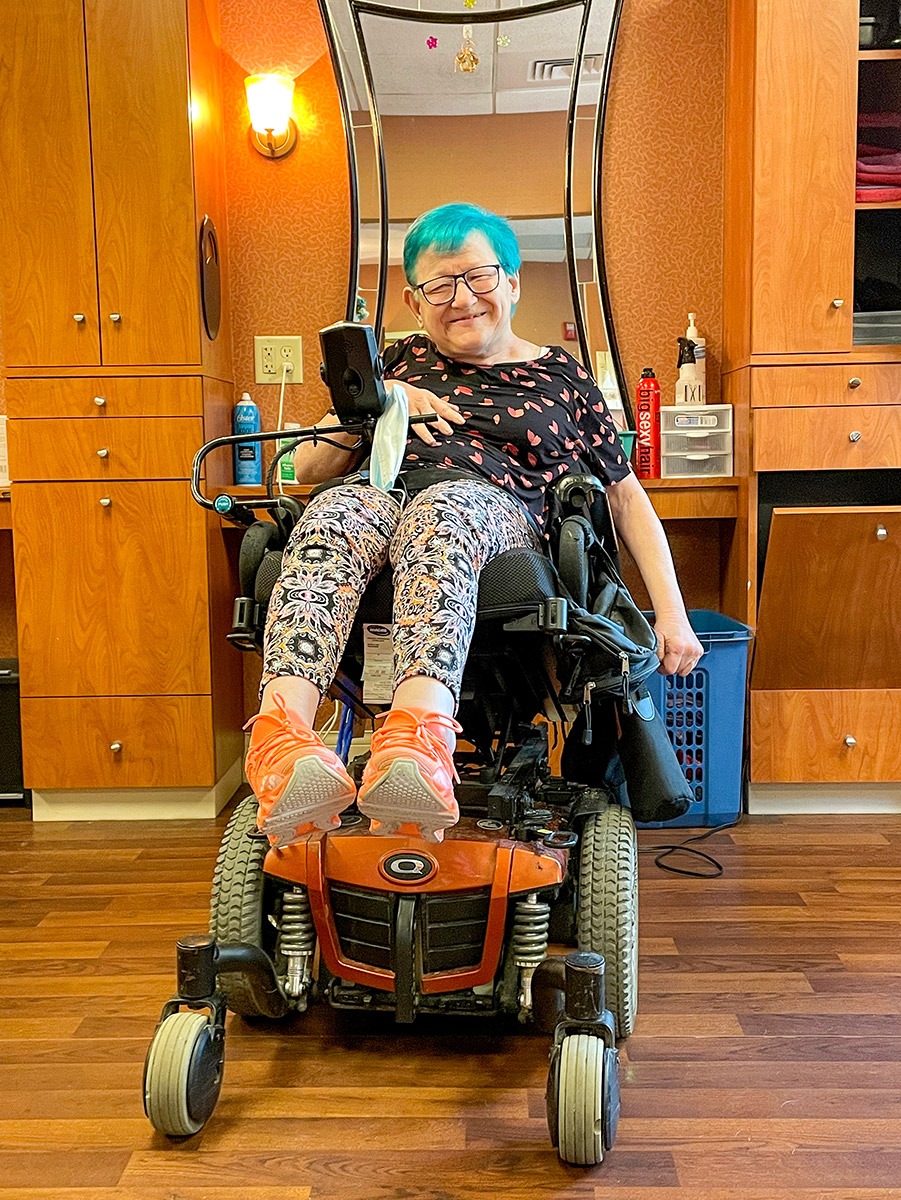 Looking good helps people feel good. That's true for everyone, regardless of age or abilities – and many of us found out in 2020 just how much we missed those personal services that pampered us a little bit…and helped us shine.

Vaccines and masks have made it possible for many people to safely revisit their favorite stylist. And with holidays just around the corner, a good cut or manicure can be a good way to lift someone's mood and confidence, and ensure they look their best in photos taken at special gatherings.

That's not just true for women, notes Julie Brown, who for nearly six years has operated the Ageless Beauty Salon at St. Ann Center for Intergenerational Care. The salon serves both the center's day program and overnight respite clients, and is also open to community members. Her male clients really enjoy getting a good haircut, their facial hair trimmed or their nails cut and shaped, she says, possibly with a relaxing warm paraffin wax treatment that comforts chapped or painfully rough hands or feet.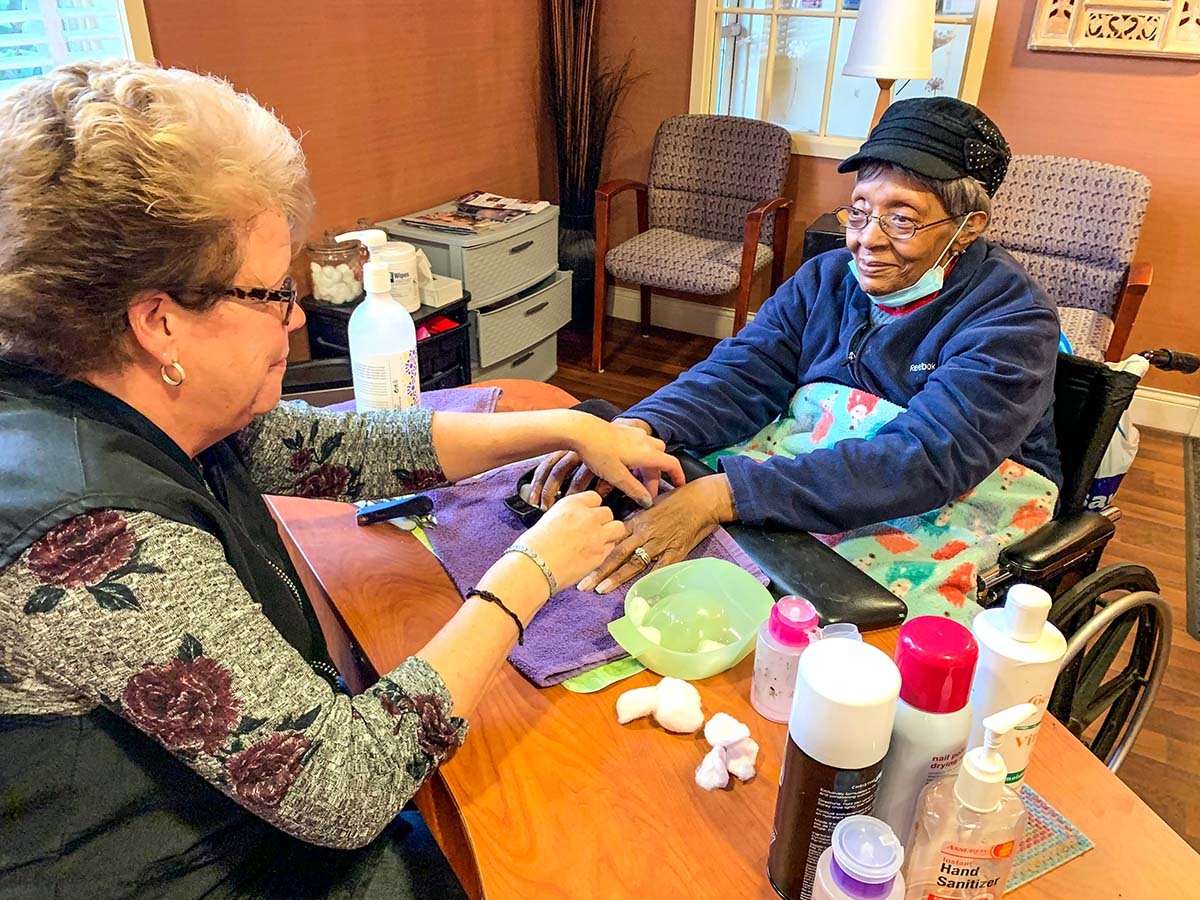 Women, of course, often choose not just cuts, but also perms, highlights, coloring and full manicures and pedicures, complete with colorful polish. Some may opt for eyebrow shaping or facial hair removal.
Finding a good stylist for people with disabilities can be a challenge. That's especially true for people who are non-verbal or who have cognitive disabilities – they will likely need to rely on a family member or guardian to share their preferences with a new stylist.
Getting Ready
But it's a good idea for anyone to prepare, taking knowledge of their specific disability into account. Cerebral Palsy Today offered these tips:
Don't expect the stylist to know what to do for your disability. Bring someone with you if you need help transferring or sitting still. Be prepared to explain your needs.
Answer questions about your disability nicely. If a stylist doesn't understand something or is nervous about hurting you, do your best to calm their worries.
Inform the stylist upon meeting them about anything that they might need to know. For example, tell them when it comes time to rinse the hair, you have a wheelchair that can tilt back. Or say, "Please don't worry about hurting me, my disability doesn't make me more sensitive."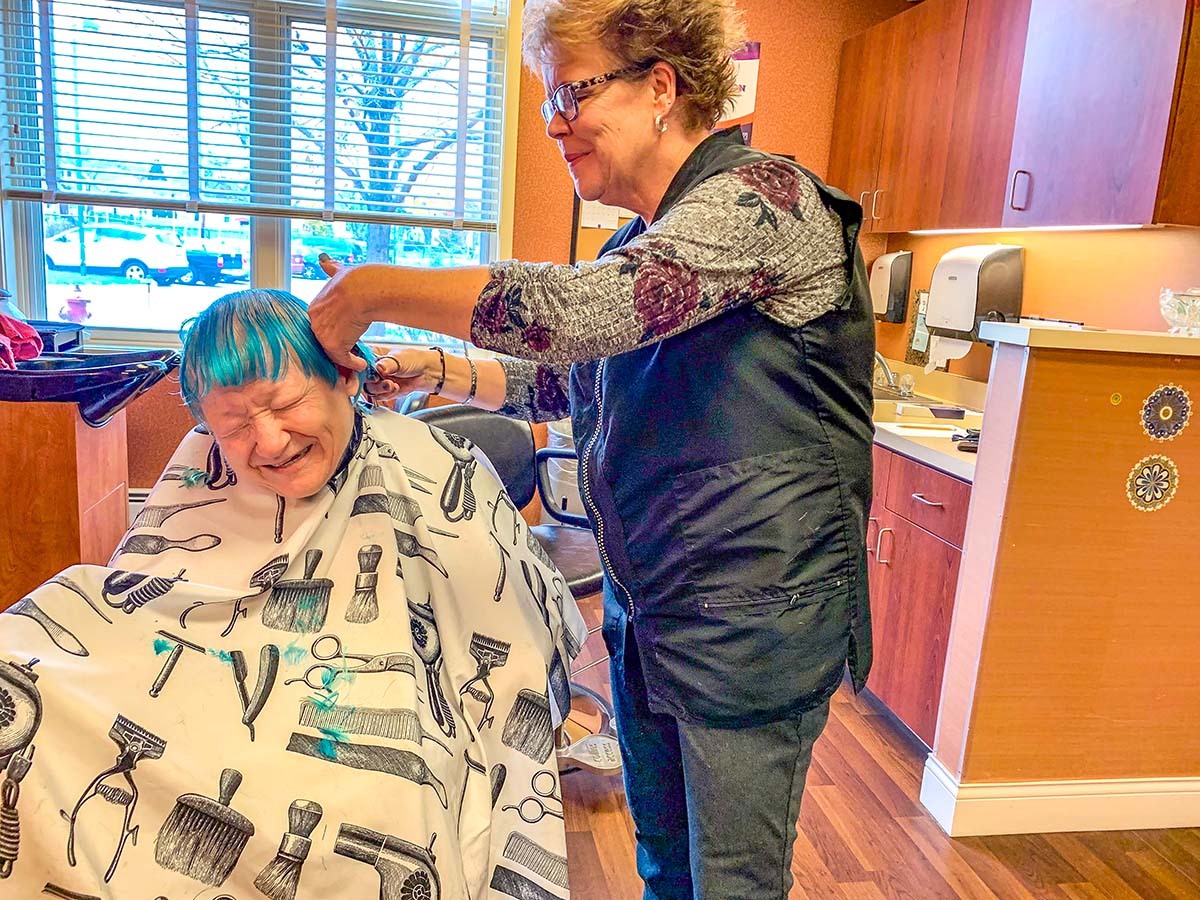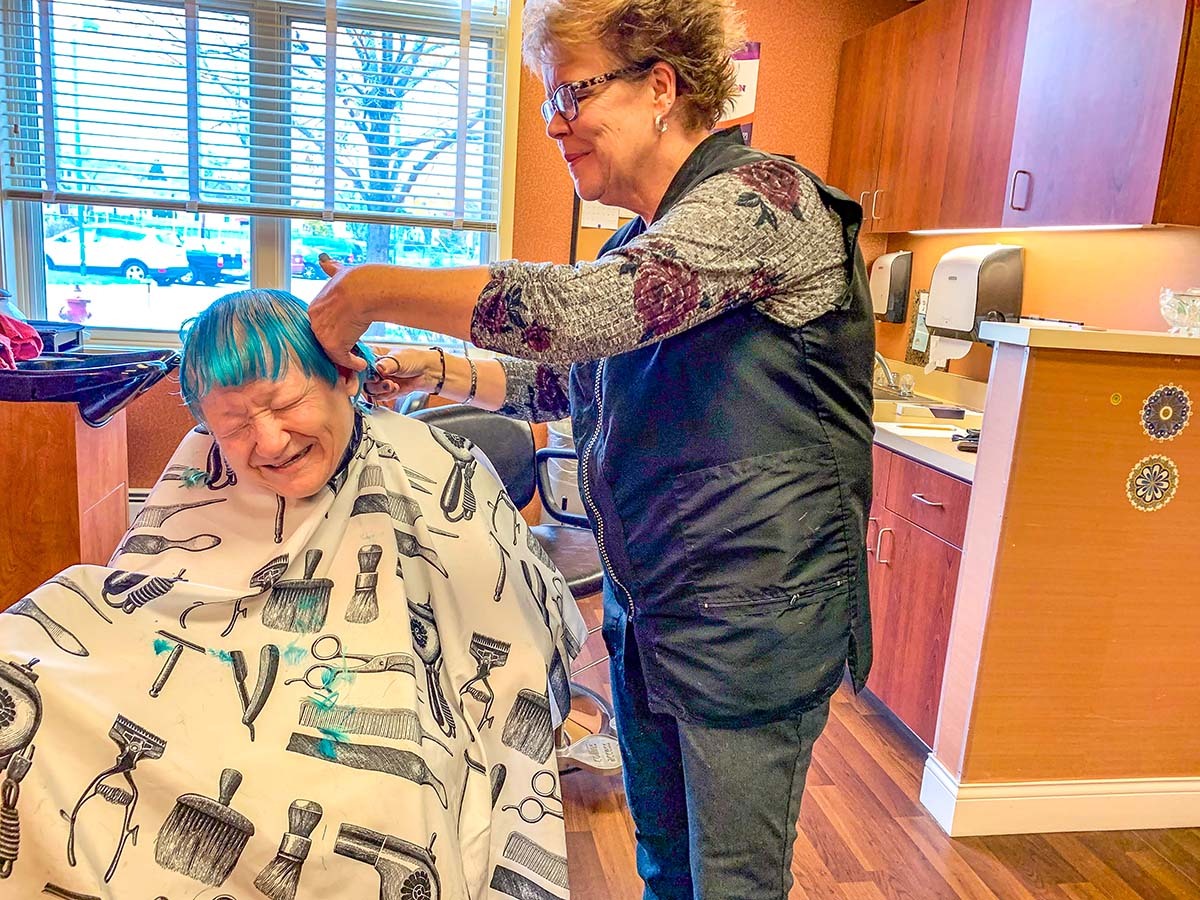 Brown agrees that communication is key. "I ask a lot of questions," she says, and while that's standard advice for any stylist seeing a client, it's even more critical when you need to determine if a client is mobile, can transfer out of a wheelchair or needs to remain in it. "It's helpful too, if they can bring pictures in."
Sometimes that conversation takes place with a client's caregiver via advance phone call at the time the appointment is booked, or by ongoing email communication. For clients she sees regularly, she will touch base when they come in… or in advance if they know they want something out of the ordinary
Personalizing Service
"Out of the ordinary" pretty much describes client Christine, whose eye-catching hair color may vary from appointment, but always turns heads wherever she goes. Recently Christine asked for a specific, vibrant shade of teal. Brown searched in vain, but came up empty. Undaunted, she delivered by successfully combining two colors to match Christine's vision, delighting her client with the results.
Christine has her haircare done right in her motorized wheelchair – Brown has a special tray she uses when washing hair of clients who remain in their wheelchairs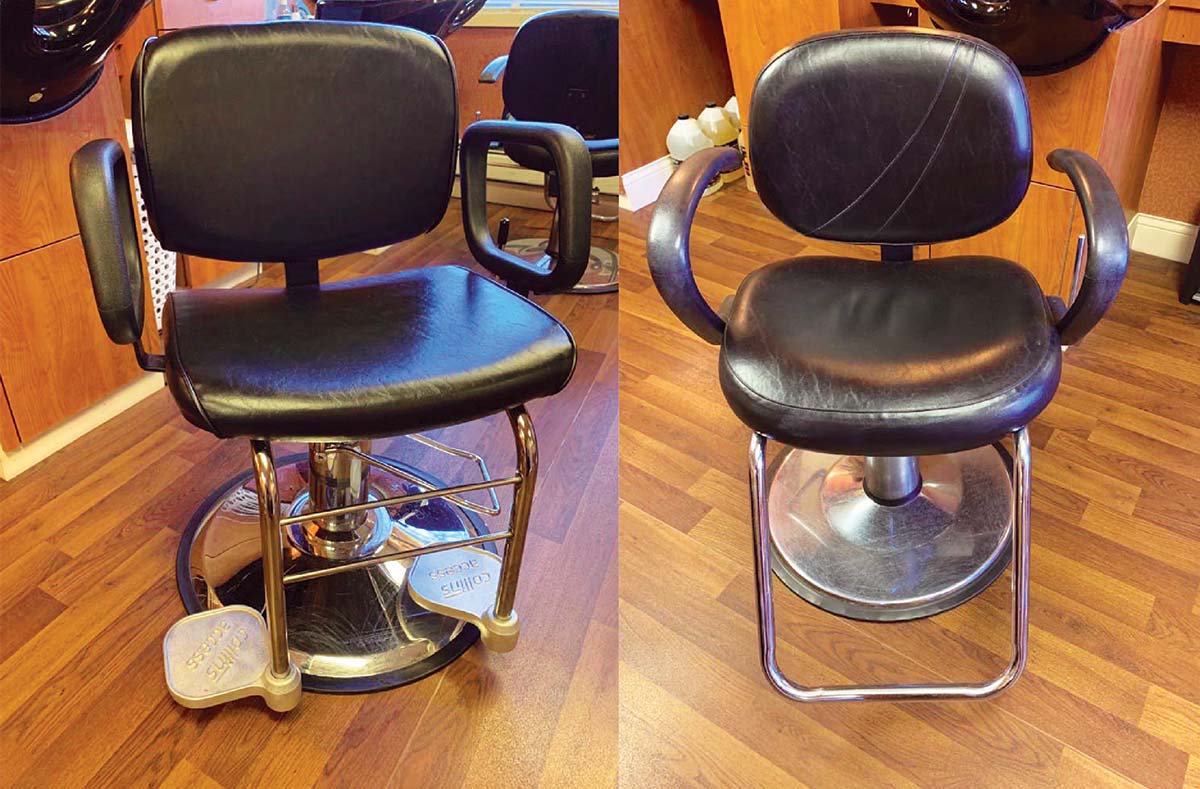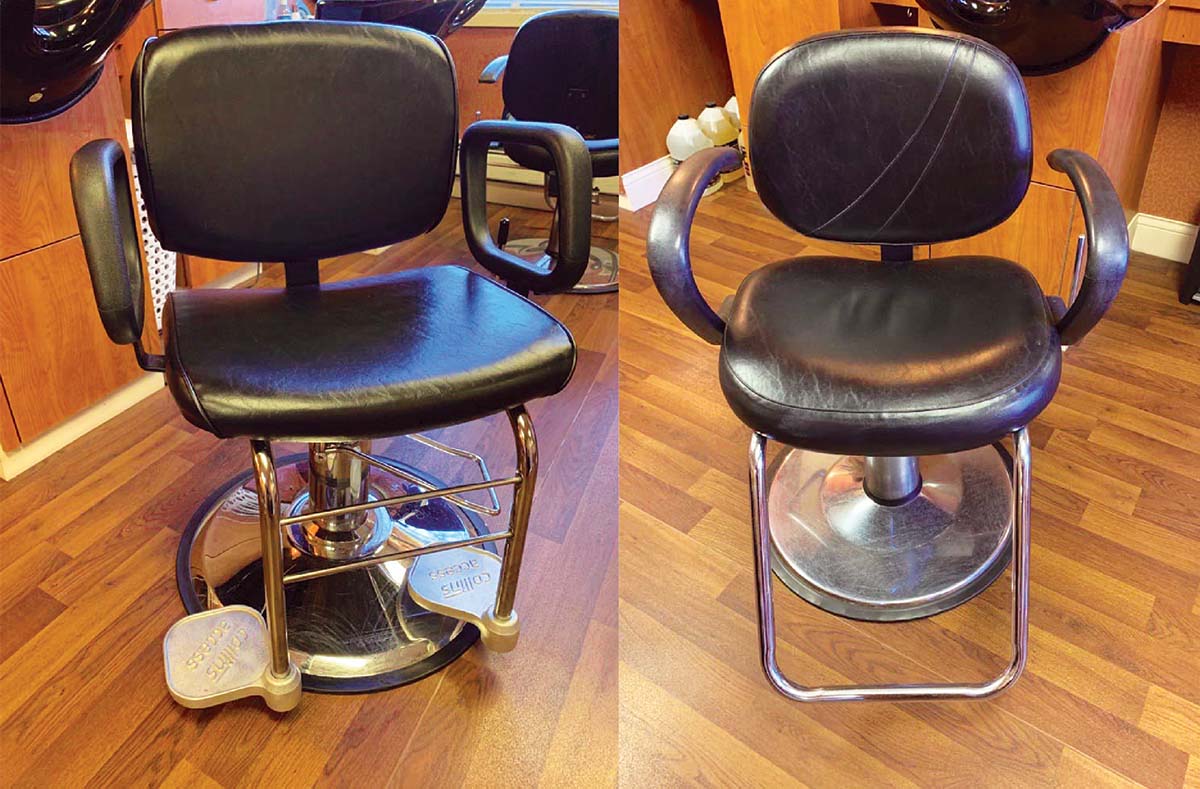 Clients with more mobility will sit in the salon's adaptable chair, which features individual footrests that can swing out of the way as a client sits down or gets up. That innovation really helps ambulatory clients who use walkers, or those able to transfer from a wheelchair. Unlike traditional chairs with a single-bar footrest, this design allows clients to get closer to the chair before sitting.
"I've never seen one like it," Brown said, adding that it's also especially good for elderly clients.
Brown chats cheerfully with each of her clients as she works, taking note of responses from nonverbal clients in their eyes, their expressions or their body language as she shapes their nails or styles their hair.
"Everybody likes to look their best," she says – and the proof is in the smiles she sees reflected back in the mirror at her before her clients leave her tranquil salon and go back out into their everyday life.
More Resources
St. Ann Center for Intergenerational Care's accessible Ageless Beauty Salon (2801 E. Morgan Ave.; 414/977-5021) is open by appointment to the public as well as to day service and overnight respite clients. It offers a variety of hair and nail services at competitive prices (pricelist online); all profits from the salon go to support the mission of the nonprofit center.
For between trips to the stylist, or DIYers: The Mighty website asked readers with chronic illness and disability for their favorite hairstyling hacks and published the best here: https://themighty.com/2018/06/hair-styling-fixing-hacks-tips-pain-illness-disability/