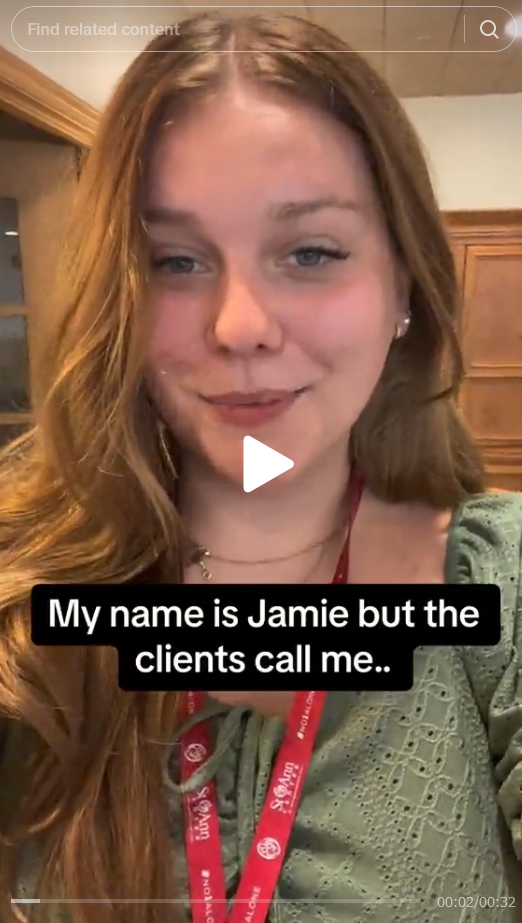 A funny 32-second video clip from St. Ann Center has gone viral on TikTok less than 24 hours after its release on Monday, racking up more than 1.7 million views…and climbing.
The clip showcases three staffers' names, with humorous contrast to how the adult clients address them.
St. Ann Center added TikTok to its social media accounts last November to offer a peek at daily life in a center that provides care for both adults and children. An early clip featuring Santa and State Fair cream puffs caught the eyes of about 35,000 viewers. Some clips highlight special activities; some, like, "That's Not Our Names…But That's OK" showcase more everyday moments. This is the first, though, to hit the more than 250,000 views needed to be considered "viral."
"TikTok has been a fun addition to the center's activities," said Kae Wiberg, director of adult services at the center's Stein Campus. She explained that interested clients formed a TikTok Club with the activities staff to create the clips. All the participants (or where necessary, their legal guardians) have given St. Ann Center consent for their participation.
The clip may be viewed at https://www.tiktok.com/t/ZT8d9qQpt/, even by people who don't have or want to create a TikTok account.
But if you like what you see, please help us out by liking, sharing or commenting on the clip itself or by following our account, to get these glimpses (from both campuses) into our world. You'll be helping us spread the word about the difference we make in so many people's lives!