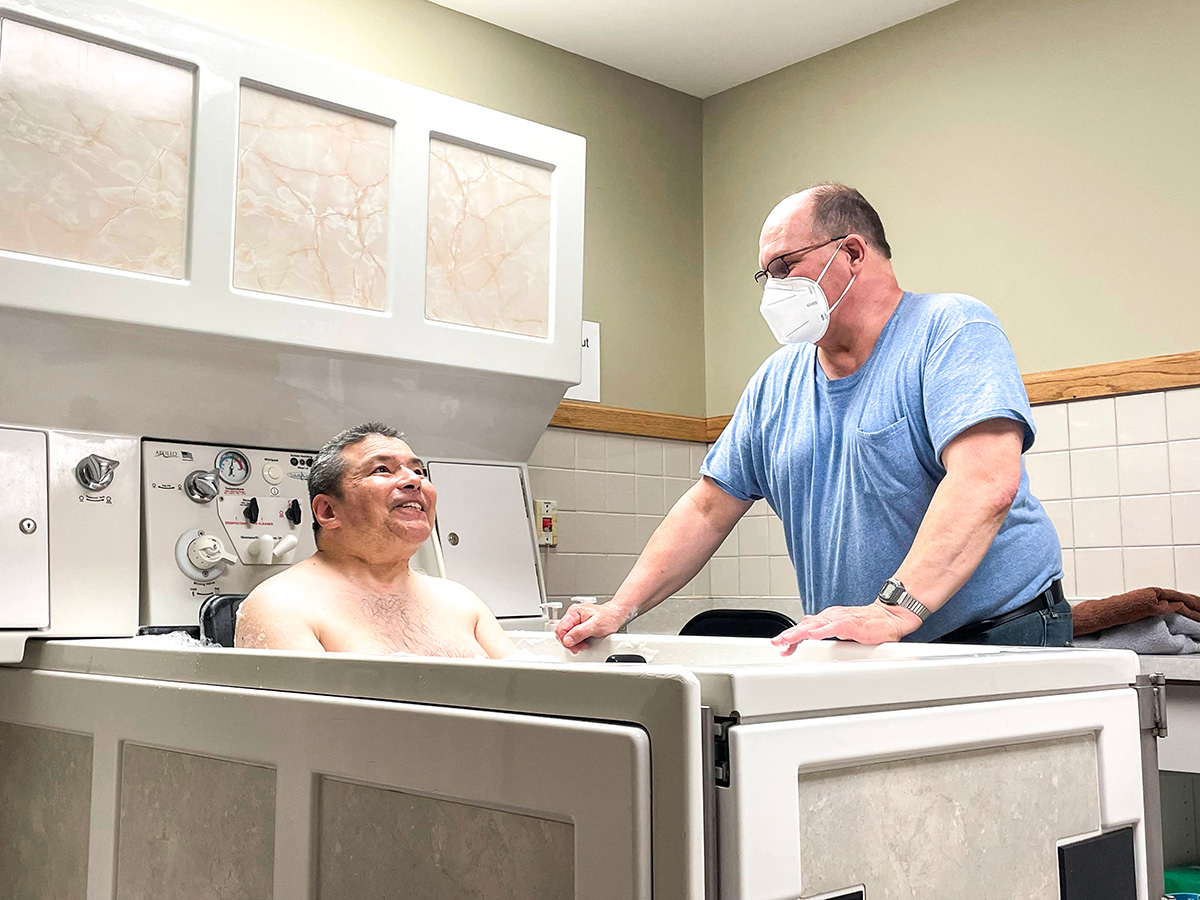 Wheelchair-accessible tubs offer spa-like experience.
January is National Bath Safety Month. It's easy to take bathing and showering for granted, but as we age, those hard and slippery bathroom surfaces pose a safety hazard, particularly when combined with balance problems, joint pain or fatigue.
Caregivers may think more about those risks. They may be physically unable to assist a person into and out of a bath without risking their own health, especially if the person they are assisting uses a wheelchair or is resistant, not uncommon among people with dementia.
Still, regular washing is essential for health. It doesn't have to be a daily bath in later years, but it's important to regularly wash away dead skin cells or fungus, which helps prevent irritation, inflammation, sores or infection, as well as odor.
Bathing can also promote blood circulation and relaxation, ease aching joints and muscles, and enhance sleep.
So why do some older people, even those who were previously fastidious, resist bathing? Some fear falling and losing more mobility. Dementia can amplify fears or make a person genuinely confused as to when they last bathed. Depression, too, can affect someone's desire to bathe.
A very common reason is that they take cold more easily! Skin thins as we age, making it more susceptible to feeling chilled even when dry. Normal room temperature can feel unbearable, especially if there's a draft.
Basic safety adaptations–handgrips for stability, along with slip-resistant bathmats—may help alleviate some fears. Seasoned caregivers will warm the room, carefully adjust water temperature, play relaxing music and offer a heated towel or robe afterward. Some find that people accept bathing assistance from a caregiver who is not a relative.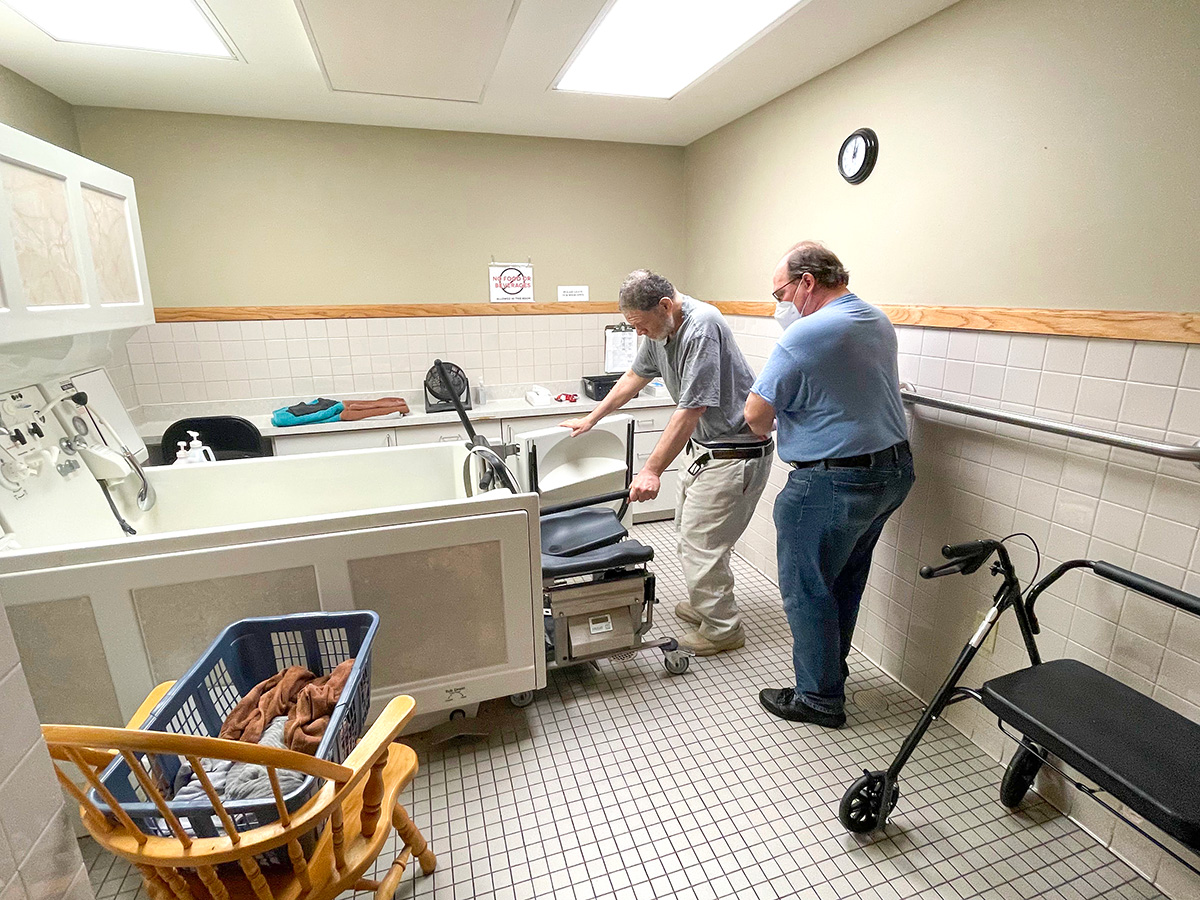 When home bathing with assistance becomes too risky or outright impossible–the tub wall is too high, a person's balance too precarious, the resistance too strong, or transfer from a wheelchair too dangerous– you don't have to resort to sponge baths or consider institutionalized care.
St. Ann Center offers a bathing service available to community members as well as to its day program clients, in safe, comfortable spaces designed to wash away common misgivings.
An overhead ceramic heater keeps the room almost tropical, even in January. The tub is readily accessible to those who use wheelchairs, with a Hoyer lift available to protect both the bather and assistant, and a belt to keep the bather securely on the seat. A moisturizing additive in the bath, and lotion afterward, protect fragile aging skin against tears.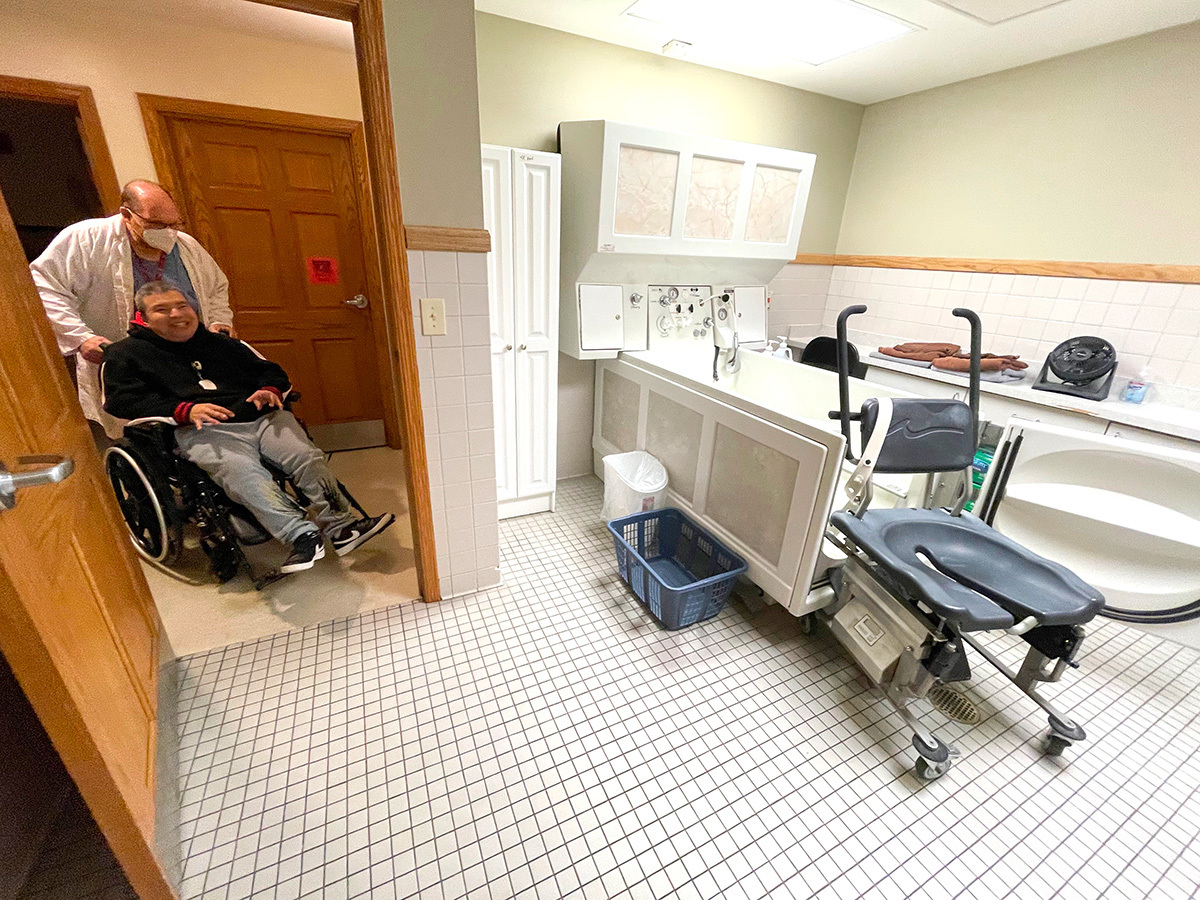 With the whirlpool jets, the bubbling warm water is reminiscent of a luxurious spa experience quite unlike most home baths!
"I don't call it a bath," says Dave Olson, who's assisted with baths at St. Ann Center for more than 25 years. "I tell them it's time for their therapeutic whirlpool session."
Emily Blaha, who also assists with baths, says she puts newbies at ease by getting to know their preferences: Do they want their hair shampooed once or twice? Would they like her to wash their back?
It doesn't take long for most people to relax, she said, and when the schedule allows, she may let a bather savor the experience for a few extra minutes. "Even for people who can shower on their own at home, there's just nothing like a good soak in the tub," she notes.
Bath services client Eileen Price agrees. "The whirlpool is the best," she said. She especially enjoys submerging under the water. Elaine, who has multiple sclerosis and uses a wheelchair, loves bathing, but lost her mobility after a fall, so she comes to the Stein Campus for a weekly bath.
Both campuses offer 30-minute bathing appointments, with personal care assistance, from 7 a.m. to 3 p.m., Monday through Friday; a physician's clearance is required. The $30 session includes 20 minutes in the tub. (Shower sessions available.) Health clearance from a physician is required. To learn more, call either location:
Stein Campus (2801 E. Morgan Ave.) — (414) 977-5024
Bucyrus Campus (2450 W. North Ave.) — (414) 210-2457