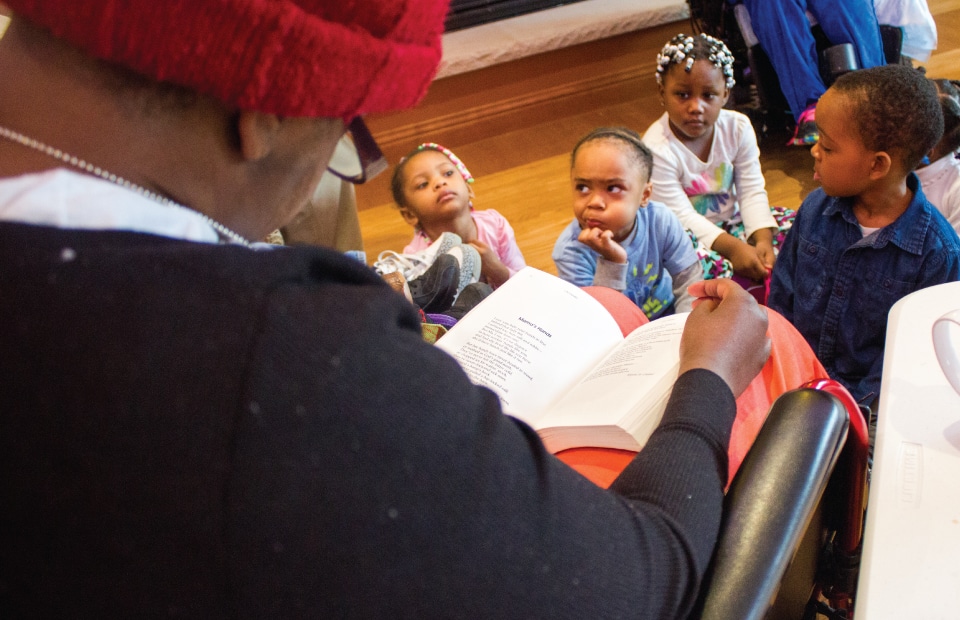 Children flock around Tonya like chicks to a mother hen as she softly reads a poem about family. "My momma and daddy were both from the South," she tells the 3 year olds sitting cross-legged before her. "They had strong hands that were always busy…always working. Can I see yours?"  Dozens of tiny hands reach toward the ceiling.
Tonya is one of the adult clients who crave the day Literary Club meets at St. Ann Center's Bucyrus Campus. Held weekly in the adult day care unit, the club aims to help its member hold on to reading and writing skills that may be diminishing due to age, illness or memory loss. "We start out writing the alphabet, and then move on to names, words and sentences," says Activity Coordinator Wanda Gray. Reading materials range from newspapers to simple books.
"Socializing is a big part of it, too," Wanda adds, describing lively conversations among clients about what a story meant to them. Never stuffy, Literary Club really gets interesting when the childcare children arrive. "The little ones get such a sense of accomplishment when they can read to adults," Wanda explains. "One little boy read a storybook aloud cover to cover. When he saw the excitement on the adults' faces, he read it all over again!"
---
This story was shared in the July-September Issue of our Seasons of Life Newsletter.
0
0
St. Ann Center
https://stanncenter.org/wp-content/uploads/2018/05/st-ann-center-for-intergenertional-care-milwaukee.png
St. Ann Center
2016-07-15 09:36:46
2019-09-25 12:40:40
Reading, Writing & Relating