The Soul of a Poet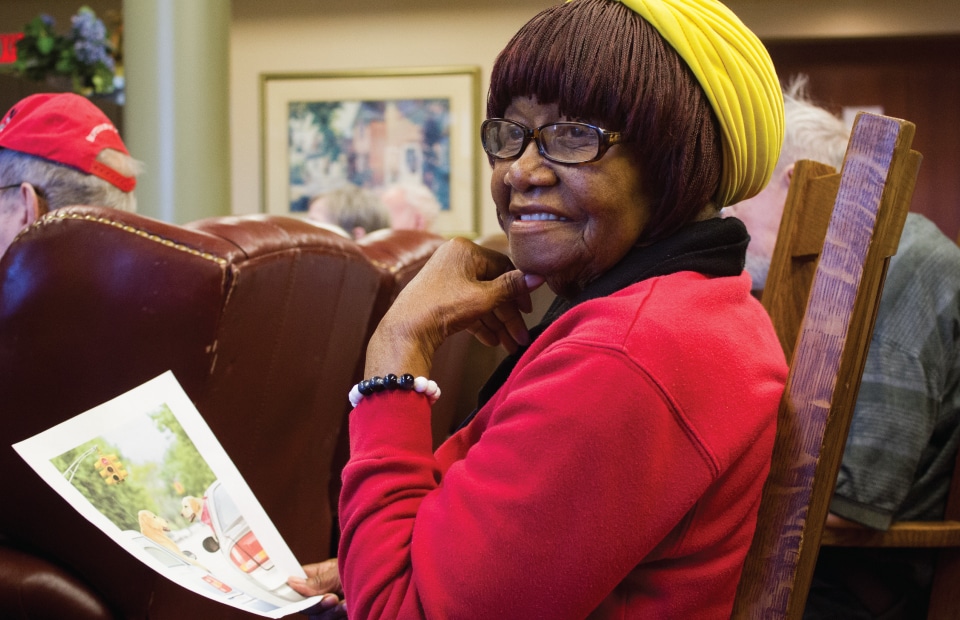 If you ask Marguerite how she's doing, she'll smile and tell you, "I'm as fine as summer wine." Just the kind of answer you'd expect from St. Ann Center's poet laureate.
"She's a natural storyteller," says Carol McQuay, caregiver to her 89-year-old mother who is a client at the Stein Campus. "Poetry just makes her light up."
Raised on the rural outskirts of Mobile, Alabama, Marguerite was introduced to poetry as a girl by her local librarian. She carried a fascination for words to Stillman College, where she earned a teaching degree, and later to Purdue University, where she studied neonatal nursing. "I so loved teaching little ones and caring for those tiny babies," Marguerite remembers. "Children are my calling."
Life changed for Marguerite 12 years ago, when a series of strokes weakened her body and memory — but not her spirit. She moved in with her daughter, Carol, who recalls that Marguerite "was still fiercely independent," but couldn't take care of herself. A counselor suggested Marguerite would benefit from days at St. Ann Center. "When Mom saw the children…well, she was in love. I don't know what she'd do without them."
The staff in Shepherd House, the center's Alzheimer's and dementia care unit, was quick to pick up on Marguerite's way with words. "One day, she came home with a notebook they'd made for her, filled with poems by Robert Frost and Maya Angelou," Carol says. Before long, Marguerite began doing poetry readings for St. Ann Center's adults and childcare youngsters.
"I ask the children what a poem means to them. Then, I tell them they can turn words into a poem all their own" Marguerite says, "And my, they are so smart."
---
Read all the stories of our joyful intergenerational community and find your 2017 full-year calendar in the January-March Issue of Seasons of Life.
---