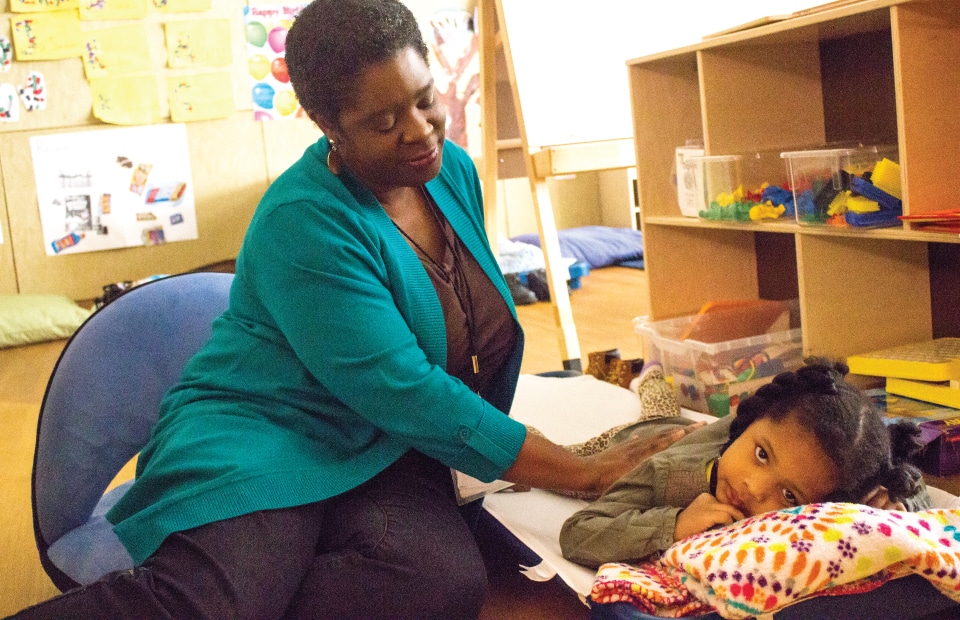 When Karen Lattimore Rogers looked out the window of her near north side home last spring, she thought, "Oh, what a beautiful condo!" She never dreamed the construction site she was looking at would become the answer to a prayer.
Karen is now a lead teacher in the "condo" that actually turned out to be St. Ann Center's Bucyrus Campus. "My family has lived in this neighborhood for 15 years," Karen says, adding that both she and her husband, Donald, had previously worked in the suburbs. "I'd been praying for a job that would let me be of service in my community. And here I am working just two blocks from home."
With years of experience in childcare, Karen is a teacher in the Zebra Room, working with children in Head Start, a collaborative program with Next Door Foundation. "It's exciting to see how quickly our enrollment is growing," she says, as fourteen 3- to 5-year-olds circle around her for storytime. "The parents are super happy to have a world-class day care in their own neighborhood."
The mother of two grown sons, Karen appreciates the struggles many inner city parents are facing. "They are working full-time, going to school, or both, and they appreciate the convenience of having St. Ann Center so close," she says. "Above all, they want the best for their children."
Parents and children alike are big fans of St. Ann Center's intergenerational model, which emphasizes understanding and acceptance between people of all ages and abilities.
"At first, the kids are a bit shy with the adults, but then I explain that people in wheelchairs need love and want to have fun, too. Before I know it, everyone is shaking hands, hugging and dancing together." – Karen
Along with learning basic reading, math, science and social skills, the children also discover the richness of their community's culture. "Recently, we had traditional African drummers from the Ko-Thi Dance Company perform at the Center," Karen says. "One little boy was so intrigued, he just stood watching in awe. Later, his parents told me he had decided he was going to be a drummer one day."
After her workday is over, Karen has homework of her own to do. A part-time student in UW-Milwaukee's School of Education, she finds her passion for teaching is growing. "It is a true blessing to be able to come to work knowing that I can contribute to my community and watch our children succeed," she says. "I thank the Lord every day for this opportunity."
---
Read all the inspiring stories from our joyful intergenerational community in the April-June Issue of our Seasons of Life Newsletter.
---
0
0
St. Ann Center
https://stanncenter.org/wp-content/uploads/2018/05/st-ann-center-for-intergenertional-care-milwaukee.png
St. Ann Center
2016-04-02 18:30:11
2019-09-25 12:44:42
Community Outreach in Apr.-June 2016 Seasons of Life Newsletter