St. Ann Center Wins National Award for North Side Site Transformation
Nonprofit turns vacant brownfield into vibrant community center
St. Ann Center's Bucyrus Campus last week celebrated winning a national award for the stunning transformation of its 7.5 acres of land at 2450 W. North Avenue, on the near north side of Milwaukee.
Named for the mythical bird that was reborn out of ashes, the Phoenix Award for Brownfields Excellence, presented at the Brownfields 2022 Training Conference celebrates sites that have brought new life to previously developed sites compromised by harmful substances. The Bucyrus Campus received the award as the best project out of thousands developed in EPA Region 5, which includes Wisconsin, Illinois, Indiana, Michigan, Minnesota and Ohio.
Brownfields are common across the country, particularly in urban areas, and this particular one had remained vacant for more than 50 years after the city razed homes and businesses across what then was two city blocks, in preparation for a freeway spur that was never built. Left behind was exposed soil contaminated with the lead paint, leaking home heating oil tanks, and other pollutants.
Sr. Edna Lonergan, president of St. Ann Center for Intergenerational Care, told the assembled crowd at the outdoor celebration that those had been razed so long ago that most people no longer remember them — just the vacant site.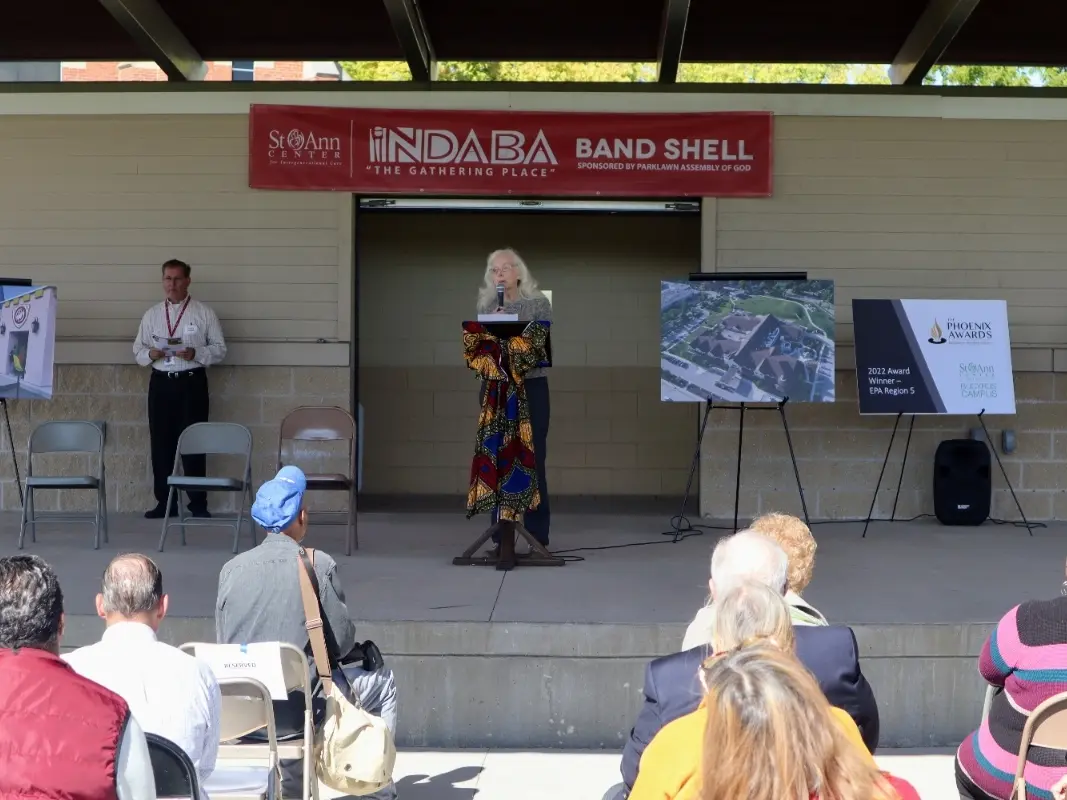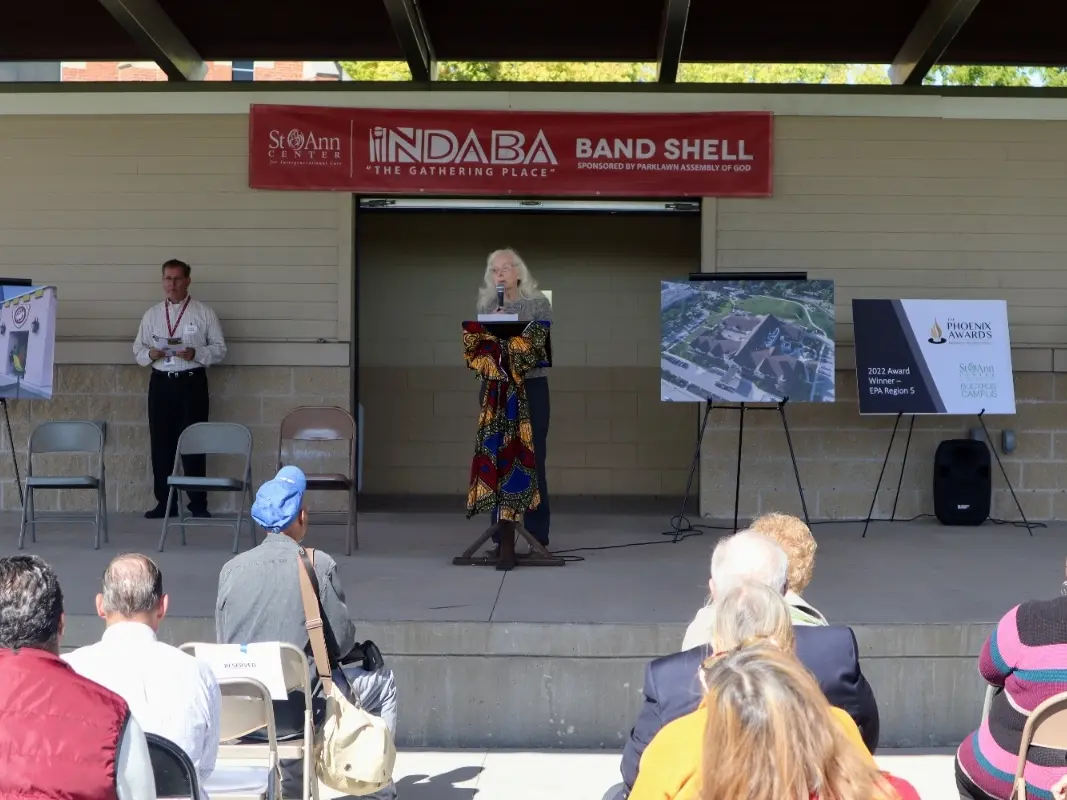 Milwaukee Mayor Cavalier Johnson corroborated her point, telling the crowd that he lived in this neighborhood as a boy. "I knew it as a brownfield," he said. "As a child, I walked past it many times."
The city sold the land "dirt-cheap" ($1 an acre) to St. Ann Center, which used $400,000 in Environmental Protection Agency Brownsfield Cleanup Grants, plus Wisconsin Economic Development Corporation grants, to excavate and remove more than 3,800 cubic yards of contaminated soil, move 2,000 more cubic yards of contaminated soil into a new hill and cap that hill with 3,800 cubic yards of clean imported clay and top soil, sealing it in.
One side of that created hill became a viewing area for audiences at the new Indaba Band Shell at the back of the property; the other side formed a children's sliding area for the childcare classes. St. Ann Center provides day care for children as well as frail elders and adults with disabilities.
Also added: more than 30 raised garden beds on the landscaped grounds to grow fresh produce for the clients and children, as well as an innovative intergenerational playgarden where adults and children can interact regularly. The playgarden features whimsical structures such as a castle, a teapot and a dinosaur designed for serious purpose – learning important life lessons such as leadership, etiquette and tenacity.
"The project was extraordinarily challenging due to its scale, scope and status as a first-time brownfield project for a small nonprofit organization," noted David Holmes, a principal at Stantec Consulting Services, which partnered with St. Ann Center for the massive project, which went from planning in 2013 to completion in 2019.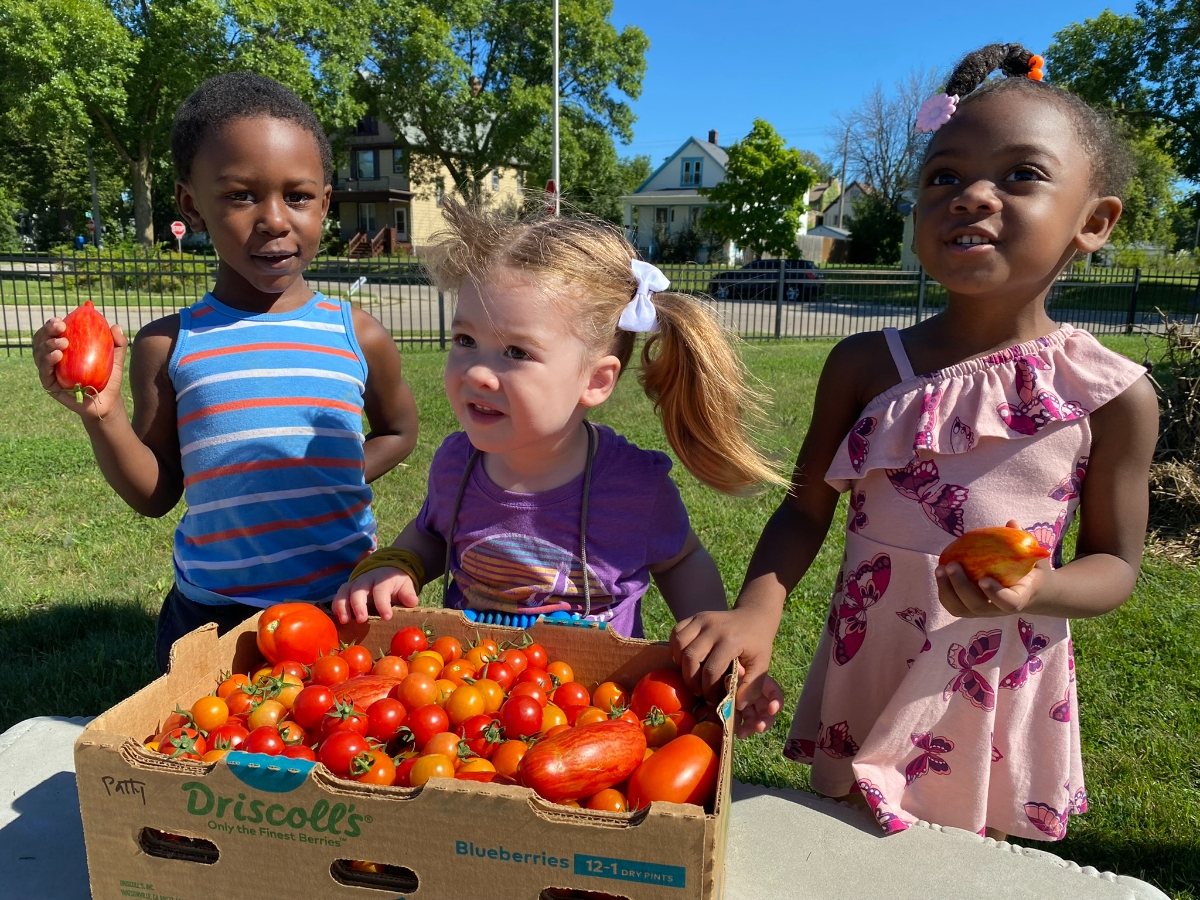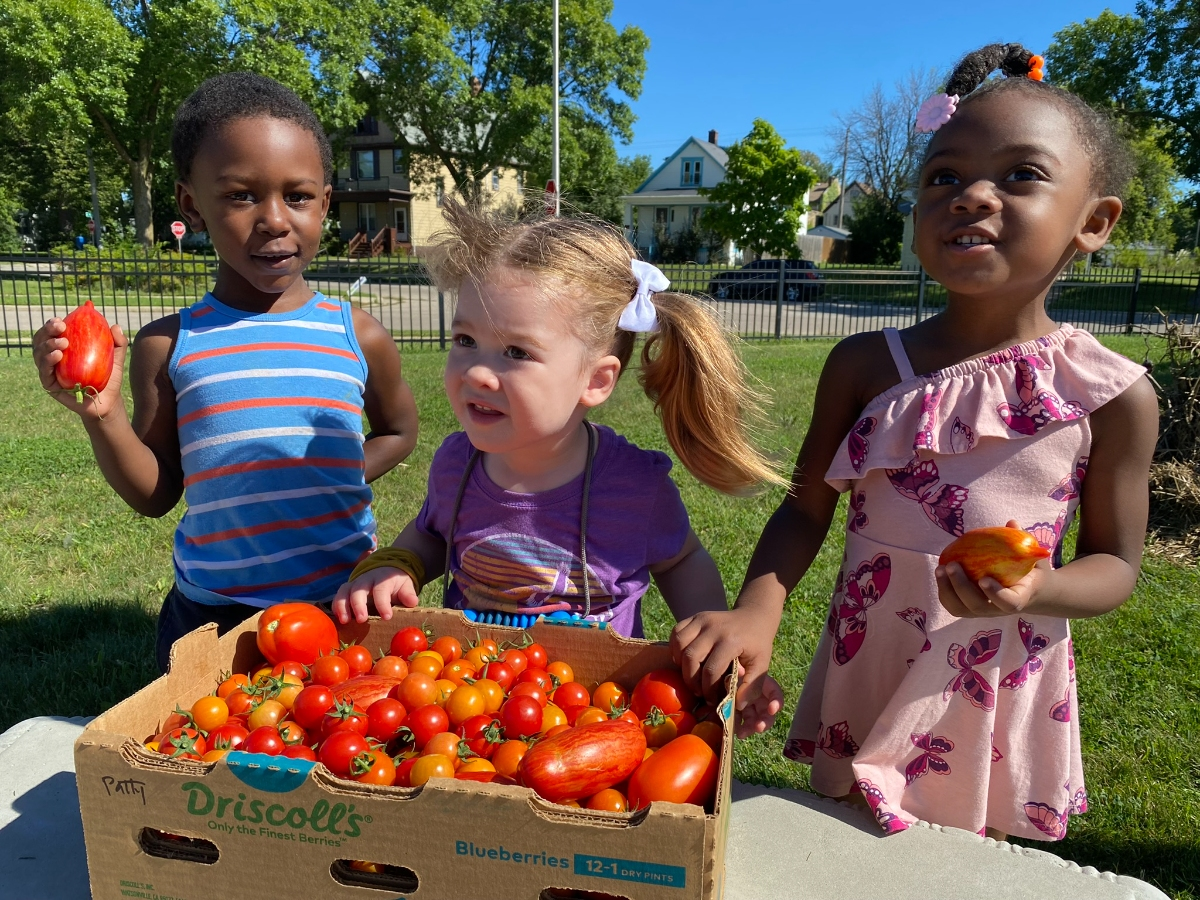 Holmes said this is only the second Phoenix Award to be given in Milwaukee, and called the Bucyrus Campus project "one of the most impactful completed in Milwaukee's northside neighborhoods." The remediation and completion of the project made it possible for St. Ann Center to provide an array of services addressing neighborhood residents' social, educational, health and employment needs.
The center also operates the state's only dental clinic specifically designed to provide care for adults and children with disabilities, works with local enterpreneurs and the neighborhood's Business and Improvement District, and plans to re-open its temporary overnight respite care for adults in the next few months.
While St. Ann Center's mission is primarily about caring for people, Lonergan noted that "one of our Franciscan principles is to take care of the Earth" and that this soil cleanup has allowed St. Ann Center to provide better care and more opportunities for people, both for the children and clients it serves and the neighborhood.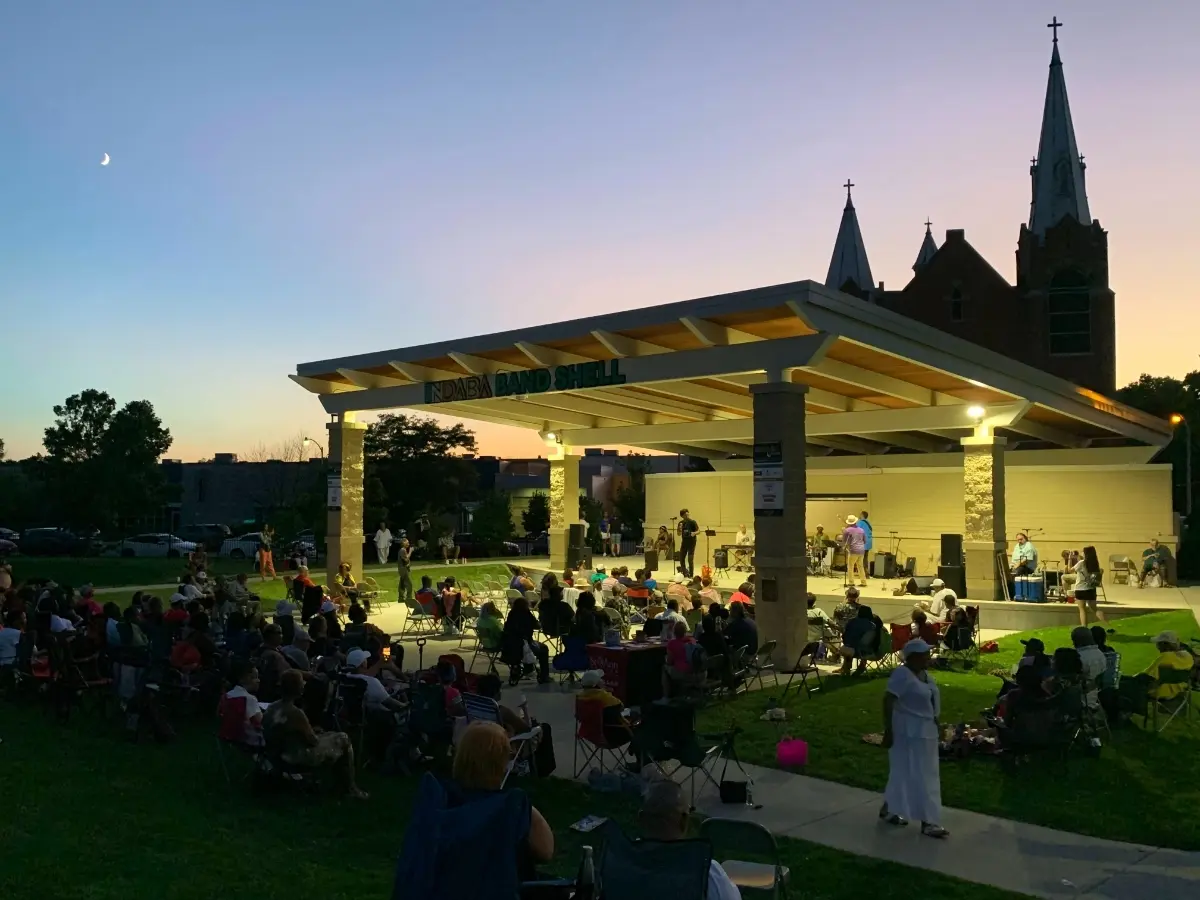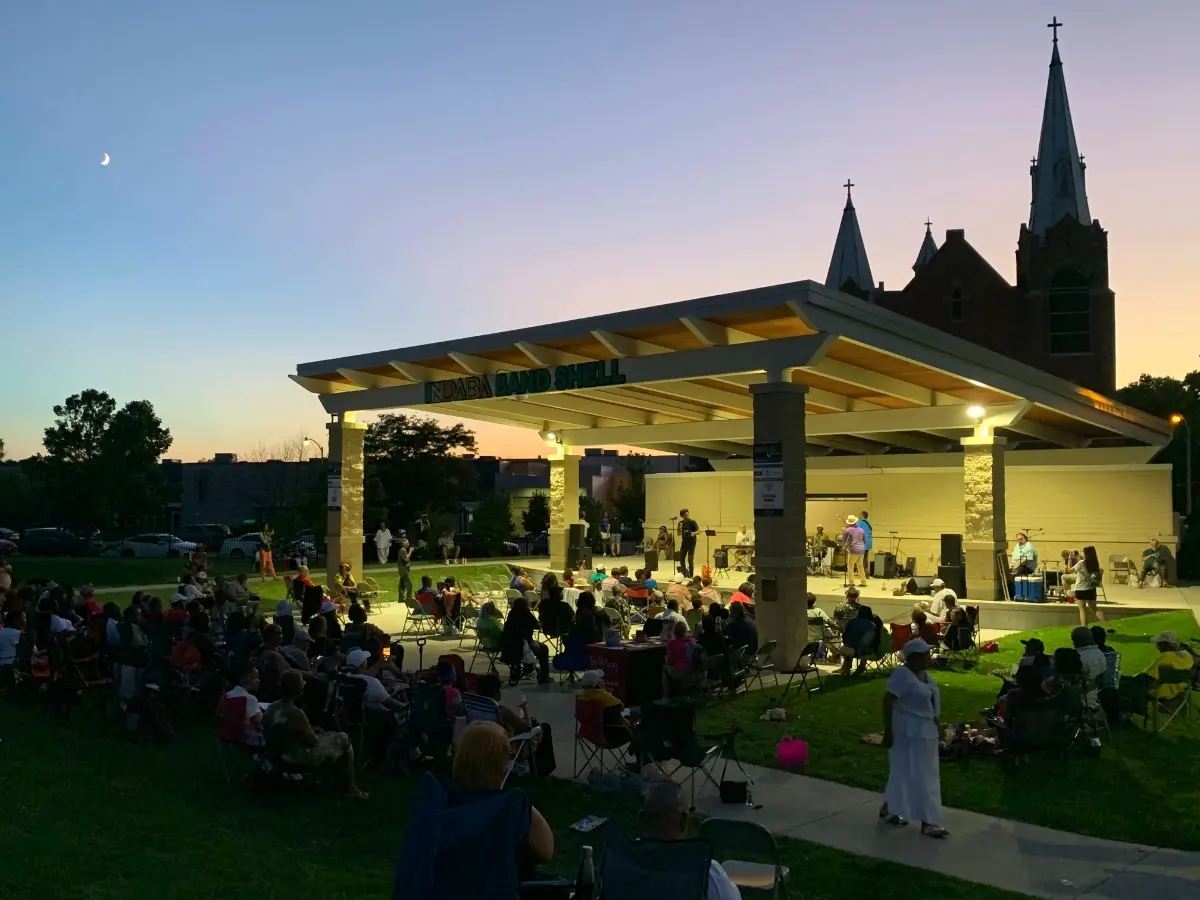 The summer's free weekly bandshell concerts sometimes attracted up to 300 community members, she said, and the space has also been used by churches and other community groups for events. In addition, St. Ann Center has offered free outdoor activities like Pumpkin Palooza (coming up on October 15) and an Easter Egg Hunt for families to help promote a spirit of community in the neighborhood.
It's a remarkable transformation, the mayor agreed, one worthy of the "Phoenix" name of the award, and one that is highly valuable to the community.