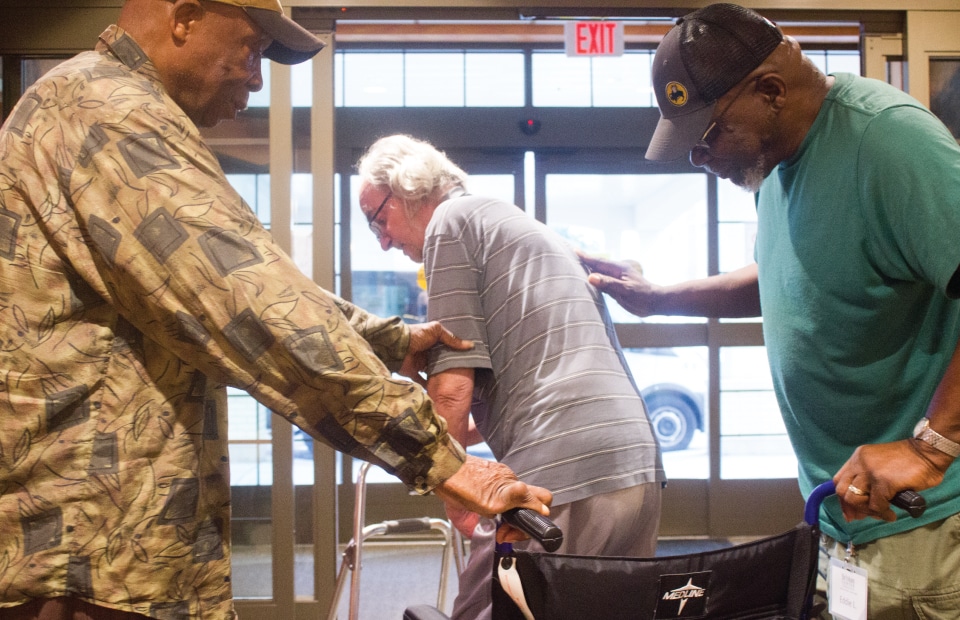 Warmth at the Door
You'd have to get up pretty early in the morning to get the jump on J.T. Johnson and Eddie Lake. They're wide awake and smiling by 7:30 a.m. weekdays, welcoming everyone to St. Ann Center's Bucyrus Campus.
The hospitable team has been greeting clients and visitors since October 2015, when the adult day program opened. The retirees volunteer through SER Jobs, a program that gives mature workers useful training opportunities in community service.
"I love meeting new people and making them feel comfortable,"  J.T. says, as he carefully pushes a client in a wheelchair to the adult day program unit, where her morning cup of coffee is waiting. He greets clients who have dementia with a special gentleness that quickly puts them at ease. Others, he jokes with…like his special friend, "Molasses," who earned her nickname by taking her time.
"This job's pretty cool…I like getting to know people by name." – Eddie
J.T., a great-grandfather, and Eddie, the granddad of six, have even developed a routine with the childcare youngsters. "They make sure to stop for high fives before they head to their classrooms," Eddie says, as he slaps palm after tiny palm. J.T. thinks St. Ann Center's intergenerational programming makes a lot of sense. "As it says in the Bible," he quotes, "'your young men shall see visions, and your old men shall dream dreams.' The young and old are meant to be and grow together."
Both men well remember when the Bucyrus Campus was an empty lot, and they're optimistic about the activity they're now seeing. They're also looking forward to the completion of the second-floor Alzheimer's and dementia care unit. "Then, we'll really be busy," Eddie says, as he slips his arm under the elbow of a silver-haired woman and matches his steps to hers.
---
Read all the inspiring stories from our joyful intergenerational community.
0
0
St. Ann Center
https://stanncenter.org/wp-content/uploads/2018/05/st-ann-center-for-intergenertional-care-milwaukee.png
St. Ann Center
2016-10-03 12:25:16
2019-09-25 12:39:14
October-December 2016 Seasons of Life Feature